Preparing to Travel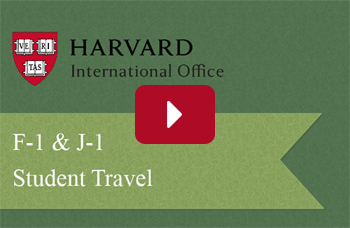 The information in this section is for Harvard international students, scholars and their family members who plan to travel inside and outside the United States during their time at Harvard. Traveling outside the United States generally requires planning in advance. It is important that you know what documents you are required to have for reentry to the United States.
Incoming students and scholars making plans to come to the United States must review the Student Guide or the Scholar Guide.
Travel in the U.S.
When traveling in the United States and outside the metropolitan area of Boston, it is advisable to carry original immigration documents, including a valid passport, visa documents (Form I-20 or DS-2019) and an I-94 print out for identification purpose. Click here to print out the I-94 form. U.S. Customs and Border Protection (CBP) officers may stop individuals and ask for identification at their discretion. When traveling inside the United States by air, please always carry the same immigration documents and follow the guidelines set by the TSA: Transportation Security Administration. It is important to check the TSA's web site before traveling each time since guidelines and regulations tend to change frequently.
Passport Validity
All international students, scholars and their family members are required to have valid passports. The passports must be valid at least six months beyond the date of the expiration of the initial period of the alien's admission into the United States or contemplated initial period of stay. Passports of some countries will be recognized as valid for the return of the bearer for a period of six months beyond the expiration date specified in the passport, thereby effectively extending the validity period of the foreign passport an additional six months beyond its expiration date. Find out if your country is among them.
Family Members Traveling Separately
Family members in dependent visa status such as F-2, J-2, H-4, or O-3 will need their own dependent visa documents (Forms I-20, DS-2019, I-797) when traveling without their principal visa holders.
Export Control
The U.S. Government has strict export control laws. If you are traveling abroad, you should check with the head of your department or laboratory before sending or taking with you materials related to your work. The U.S. Government may require a license to export such items. For more information, please see the University's policy statement.